Have you ever wondered how easy it is to make your own pizza? Well, I am so thrilled to announce that I had the grandest time to make one of my own this morning just before school. You heard that right, just before school. And it took me less than 20 minutes to prepare and bake them from scratch (with a little help) this morning.
I discovered
Pillsbury's Pizza Crust
just last Monday when I was shopping alone at Target. Saw it at the fridge section along with cookie doughs and eggs. This is why I love to shop alone. I get the chance to trail along each and every aisle, and read on every food labels on my long list.
This lunch is what I consider semi-homemade because it wasn't really made from scratch. I had a little helper. The pizza crust was pre-made. So if you have any food allergy issues, you might want to consider reading the label first.
Start with pre-heating the oven to 400 degrees F. Grease any size of cookie sheet. I lined mine with aluminum foil for easy clean-up.
Next, Open! It takes a little trick to open the package, but I made use of a spoon to push onto the marked line to pop open. Then peel away till you get the dough out of the can.
Third, Unroll onto cookie sheet and press to desired thickness. Pre-bake the dough to 8 minutes.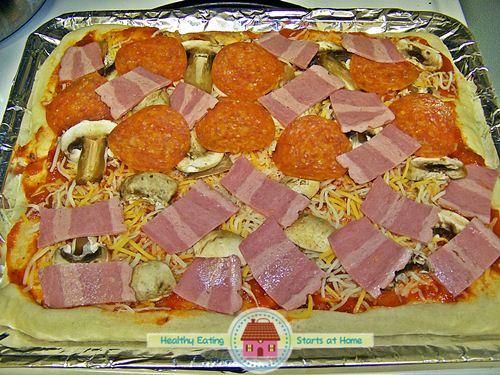 Lastly, spread with 1/2 cup of pizza sauce. I used seasoned Spaghetti Sauce, as always. Then top with cheese and other preferred toppings of your choice. Make sure that if you're adding meat, they're cooked already. So if you're considering to make this for school lunches, pre-cook all meat toppings. Also plan how you want the toppings distributed. Return them in the oven, and bake for another 8-10 minutes. Since my crust is pretty thick, I left it in the oven for a full 10 minutes for a crunchier crust, unless you want them soft and chewy.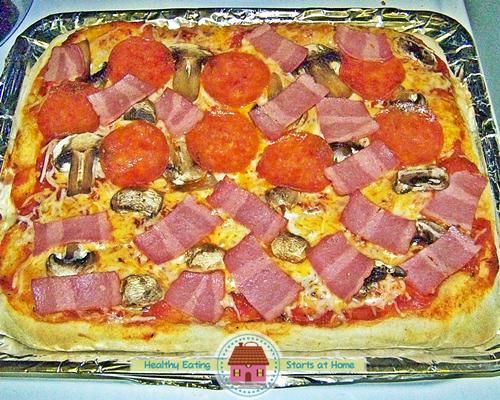 My kids love bacon, pepperoni, and mushrooms. Missy A is not huge on pepperoni so I have to leave the other half free of pepperoni, or she might not eat them. Everything else is equally distributed.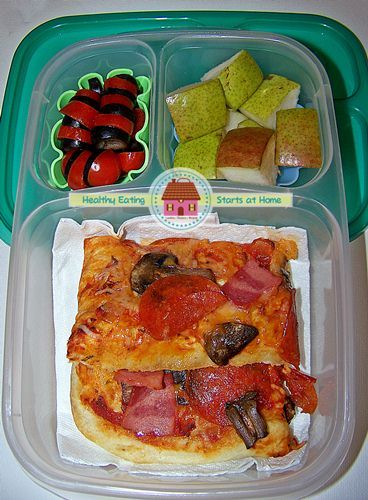 On his
AQUA
EasyLunchboxes BRIGHTS
, he got 2 slices of pizza, olives and grape tomatoes and a chunky cube of pears. I was meaning to put some tomatoes and olives on the pizza as well, but Mister G opted to snack them fresh.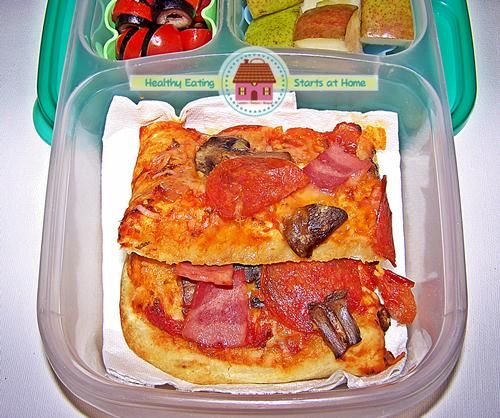 On her
PINK
EasyLunchboxes BRIGHTS
, she had just a slice of pizza without the pepperoni, and a side of chocolate chip cookies, and another for smaller cubes of D'anjou pears.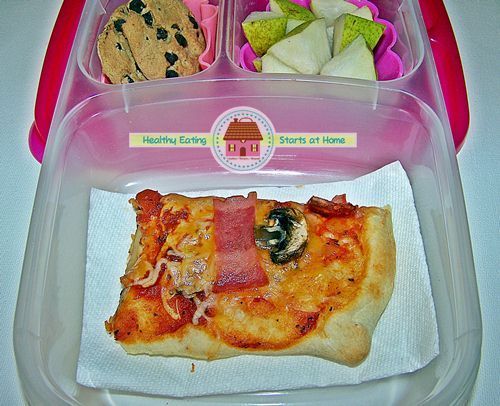 I like lining the pizza with paper napkins underneath, so they could just grab and eat them mess-free. Then they could just easily wipe clean their mouths when done.
In my opinion, I think this pizza crust would go well with DIY Pizza Lunchables than the flat breads that we've tried. They taste way better.

Do you have the ELB BRIGHTS yet? The kids went crazy over them because of the newest colors. But they work equally fantastic as the ELB CLASSICS.
Disclaimer: I was neither contacted nor provided with any product by Pillsbury to facilitate this post. I purchased this on my own on my quest to find other stuffs that I could pack for school lunches and blog about.