I have been working part-time with a crazy schedule. There are days when I get 3 days in a row for 10 hours on the floor each day. Just lucky to get hours after I've dropped the kids off to school. That gives me ample time to read books to Missy A, as part of her Kindergarten program, before I took off to work. It's pretty darn tough to prep lunches ahead of time when work is physically exhausting that gives off zero stamina to brainstorm & prepare the night before. So what do I do on these days? Either I make use of frozen stuffs I made days before, or purchase foods that I can work on to make it semi-homemade. I may not have time to post them on time, but I make sure to never miss to pack lunches for them on a daily basis.


Here are some of the lunches I sent for those busy days with not enough time to make ahead, but managed to make them semi-homemade and healthy.
Dimsum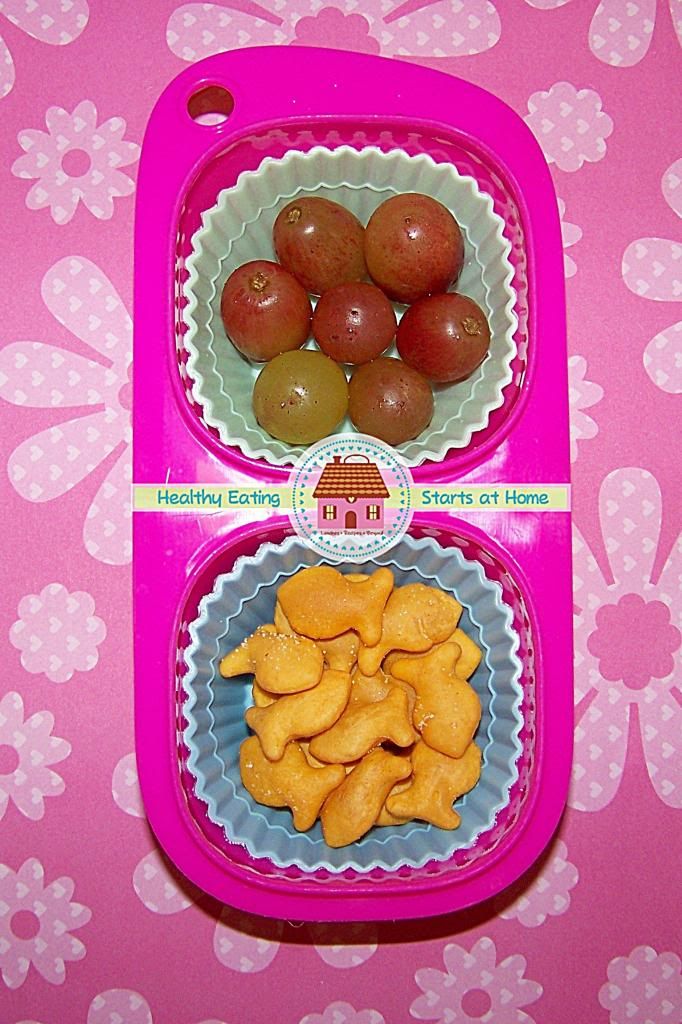 My kids love dimsum. It's one of the lunches I prepare when I'm too swamped with work. I always make sure that I pair it with fruits and/or veggies to come up with a healthy meal. When packing a snack, I always opt for whole grain ingredients. On left is a red globe grape and a whole wheat baked fish-shaped crackers.
How is this semi-homemade? By packing them together at home with our choice of side dishes to go with the main entree. That way we get to control individual portion size and not wasting so much food in the process.
Missy A's lunches and snacks packed on a
Goodbyn Mix and Match
containers. We love the way they nest on top of each other. They fit perfectly well on our lunch bag without sliding. Even Goodbyn bottles nicely nest on top of these containers too. I'll try to snap a picture next time for you to see.
One of my frequently packed lunches would be the cracker bento. It's a home-made version of the Lunchables, courtesy of
Momables
. But I must say this version is healthier and more eco-friendly. You get to choose your kind of cheese, crackers and deli. A lunch that you can send everyday with different ingredients each time. There's also a hidden treat beneath those silicon cups.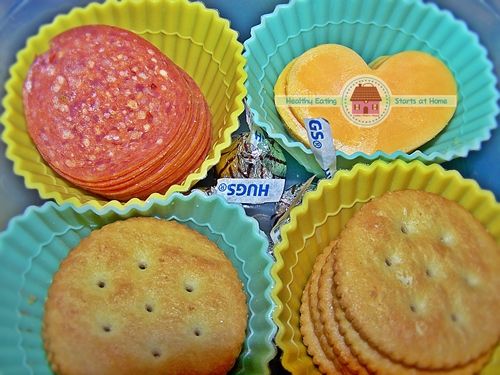 What could it be? It's my hidden HUGS or KISSES! And they never cease to find them no matter where I hide them in their
EasyLunchboxes
...lol!!
Oh Pizza !
I would say pizza is the easiest and the yummiest meal to prepare. All you have to do is to pair it up with a fruit and a veggie side for a healthier meal.
First of I didn't make this from scratch. I bought a pre-packaged cheese pizza box to make use of the pizza crust, then I modified the toppings according to my kids desire. On this lunch, I added mushrooms, pepperoni, bacon, and pineapple. Then I added kiwi and grape tomatoes for sides, which was a great hit.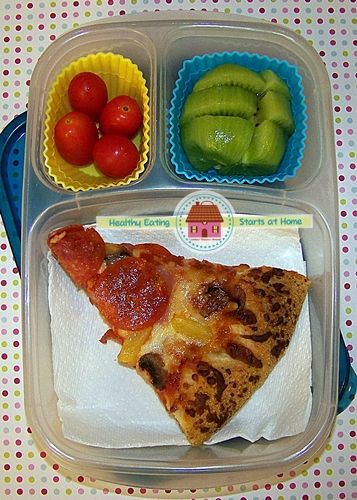 Mr G would usually take 2 slices of pizzas to school. But for the purpose of blogging, I decided to pack one for now, and later nest the other on top with a layer of parchment paper in between to avoid messing up the bottom of the topmost slice. FYI,
Easy Lunchboxes
can accomodate 2 pizza on its large compartment.
My kindergartner had this for lunch too. She had 2 smaller slices with just a fruit side coz she can't finish them up in one sitting. Learning to pack 2 different portion sizes for each of our children is crucial. It helps lessen food waste and maximizes our budget for the week.
Pack healthy and Enjoy making lunches!
All bento tools courtesy of
Bento USA
,
EasyLunchboxes
, and the
Goodbyn Lunch Containers
.
Also available thru
My Amazon Store
.
Thank you for your support!