You must be wondering by now what has happened to us. I have been delayed posting lunches lately. I've been crazy busy with work (not that I work daily) and with my school volunteering duties. It's just physically exhausting and mentally draining to even come up with a sensible write-up for each post. Seriously, I can't just post the lunch picture and hit publish anytime. It wouldn't be nice to just leave you guessing what's in the box. So please bare with me.
I made a HIS and HER Lunch last week. These were one of the days my kiddos prefer different menus. Most of the time I send in somewhat similar lunches, and just show off how I pack individual portion size for each.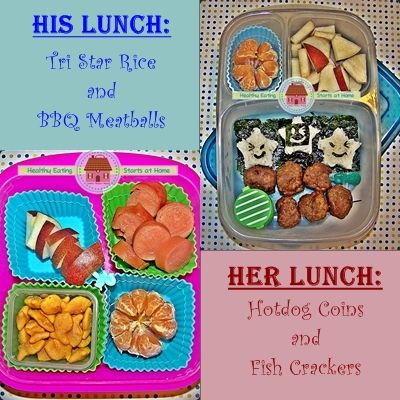 Her Lunch: Hotdogs, Wheat Crackers, Pears and Clementines
My Kindergartner, Missy A, loves hotdogs so much. She can eat them every single day, but of course I won't let her. I reserve it for school lunch purposes only. Especially on our morning rush. Since she loves to talk while eating, I have to pack bite-size meals, and a little bit of everything. Over time, she has learned to eat while talking. And has consumed her lunches pretty well within the time alottment.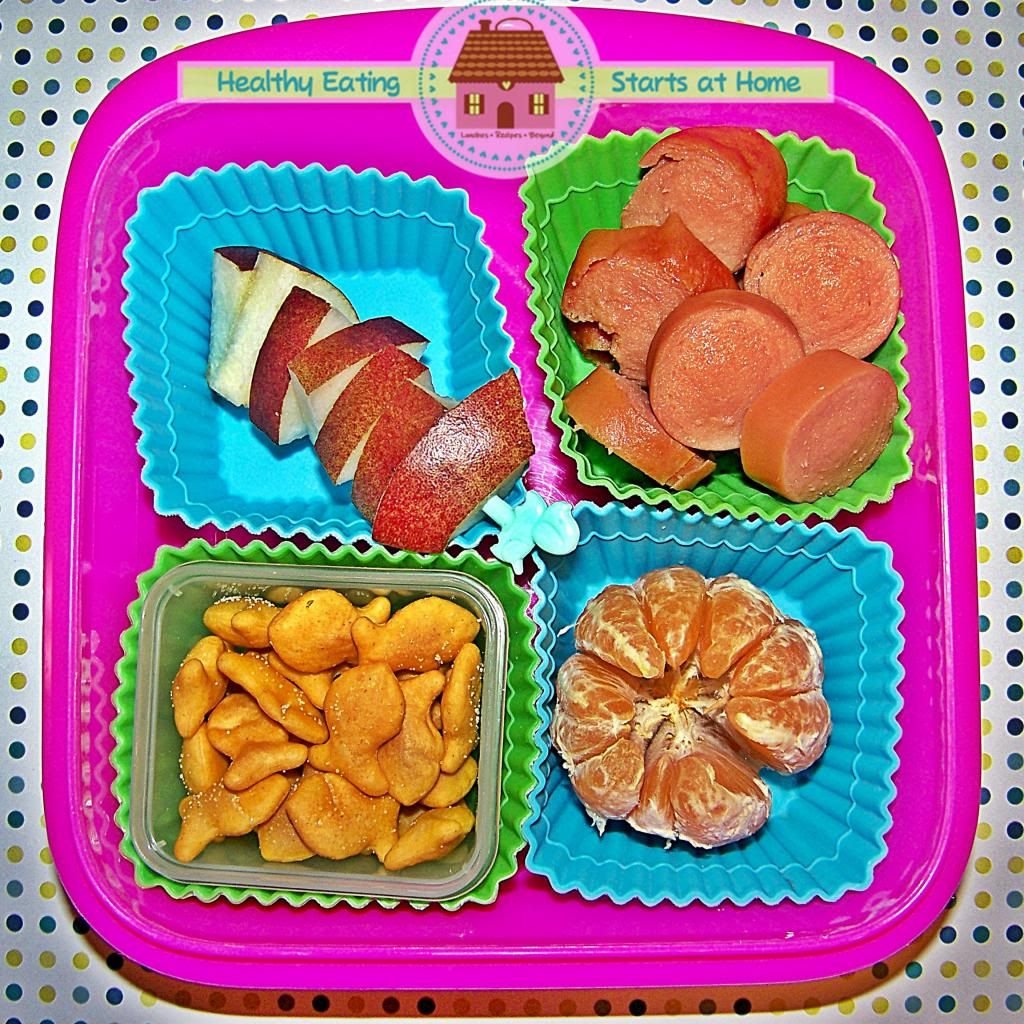 On her
Goodbyn Sandwich container
, she had a 4-meal course divided by silicon cups served in a box. She had Whole Wheat fish cracker, hotdog slices, skewered red D'anjou pears, and Clementine orange.
All tools courtesy of
Bento USA
and
Goodbyn Lunchboxes
.
His Lunch: Tri-Star Onigiri, Meatballs, Pears & Clementine
As I have mentioned, Mister G is into rice meals lately. So I thought of re-inventing my ways of sending rice lunches to school. I didn't like the idea of just throwing the rice on his
EasyLunchboxes
and top it with the works anymore. Since I have 2 kinds of rice molds set, I thought of putting them into good use, and experiment on my new Kawaii Bento cookbook, sent by a good friend,
Keitha over at Keitha's Chaos
. Have you visited her lately?
On his
EasyLunchboxes
, I made use of the star rice mold and had given my boy (an all-time Star Student in school) a Tri-star shaped rice and skewers of meatballs, inspired by
MOMables
recipe. Have you given
MOMables
a try yet? There are tons of menus and recipes worthy to be discovered which are all great for work and school lunches. For as little as $6/month, you get 5 planned menus and recipes per week for a total of 20 lunches a month. How cool is that?
All tools are courtesy of
Bento USA
and
Easy Lunchboxes
.
Also available thru
My Amazon Store.
Thank you for your support!