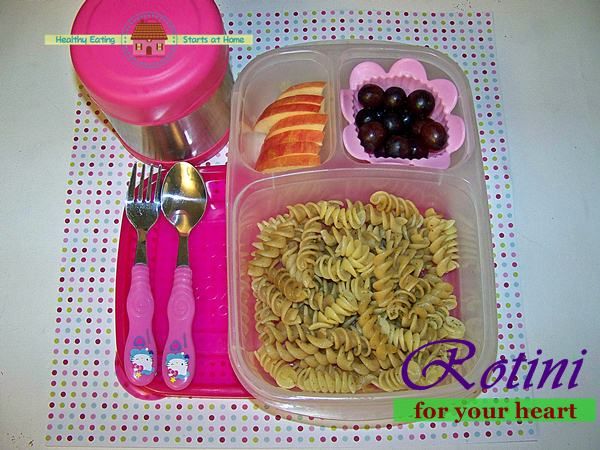 On my quest to feed my kids healthy and nutritious meals, I have found a way to sneak in whole grains pasta into their diet. The kids found whole grains pasta tasted like paper. So I thought of mixing in equal portions of regular and whole wheat Rotini with a pesto sauce.
We all know that whole grains help fight chronic illnesses; such as, diabetes and hypertension. So it's better that we start early on healthy eating habits. Both chronic illnesses are in our family history line. So preventive is the key to stay away from it.
The family is all having Rotini on our
EasyLunchboxes
with home-made vegetable marinara sauce for lunch today. No meat. Both Mr G and Missy A brought them to school, while hub packed it for lunch.
FACTS:
Do you know that you shouldn't supposed to be sending in pasta with tomato-based or cream-based sauce mixed in already? For unknown reason, there is a chemical reaction between pasta & tomato sauce that causes food poisoning when not consumed within a period of time, say an hour or 2. So keep them separate when sending them to school. Be sure to send the noodles straight from the fridge, and the sauce heated well before packing in thermal containers to keep them hot. Invest on good thermal containers that can keep foods hot for at least 5 hours. Another way to prevent food poisoning is to boil your noodles well, and store any leftover in the fridge. Always reheat sauce before serving.
I have linked this post to Bento For Kidlet's Meatless Monday.
Not a Monday lunch but a good and simple menu for vegans.


Visit the party and get more great ideas for your menu this week.

All bento accessories are available through
Bento USA
,
the cheapest and most complete online bento products in the USA.

Other bento gears are also available thru My Amazon Affiliate Link.
Thank you for your support!