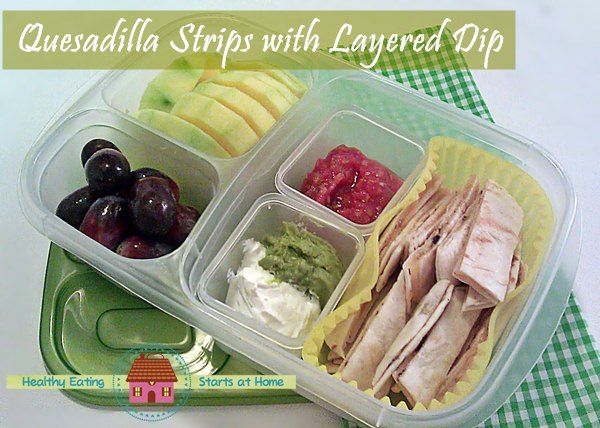 Today's lunch was originally inspired by a friend's Meatless Monday bento,
Jenn of Bento for Kidlet
, which can be found
here
. Check her out and see other awesome lunches linked up to her party. Hers was mouth watering nacho lunch which gave me this idea for the kiddos' lunches. But since mine are not huge on beans, I omitted that and substituted it with salsa. This is actually their first time to eat quesadilla with sour cream and guacamole dip, so I separated it from the salsa, just in case. They love quesadilla, but I've never sent them this way before. And it was a huge hit. According to Mr. G, it couldn't be better!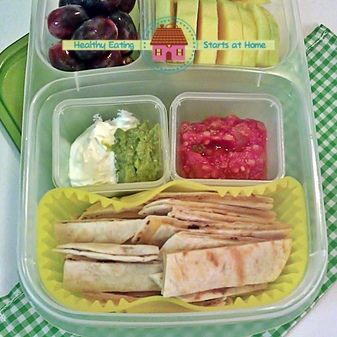 I decided to cut the quesadilla into strips instead of the traditional triangular shape, so they could scoop and dip it better in the Mini dippers, mess-free. Mr G is a clean-freak. He doesn't want his hands get messy and gooey when eating. One reason why burritos and tacos won't work for him, unless I wrap them nicely that allows him to reposition his food on his hand.
Missy A loved it as well sans the salsa and guacamole. She came back home with salsa and guacamole left behind. Fine with me. At least she ate them without any fuzz. I just noticed one thing though. I think she peeled some of the cheese off the tortilla and tossed it on her EasyLunchboxes. Y'all know that she doesn't like cheese and I would be lucky if she eats a piece.
I hope you all have a wonderful lunch.

All bento accessories are available through
Bento USA
,
the cheapest and most complete online bento products in the USA.
Other bento gears are also available thru
My Amazon Affiliate Link
.
Thank you for your support!