Happy May 1st!
Time flies so fast. Before we know it, school is off and summer break kicks in. I am usually one of the most excited person for this time-awaited break. For us, this means an endless trip to Disneyland, Universal Studios, Legoland, Discovery Center, Sea World, the ZOO, playdates and picnics at the beach. But this year, I'm not quite liking it because I would have to work fulltime, and kids would be left home with nothing special to do until I come back home after work. I have discussed my work schedules with my kiddos, and they seem pretty good with change now that they've grown. I have arranged a weekday off from work to bring them to playdates, movies and picnics in between, and reserved the bigger trips on weekends with hub.
Sushi is on board again. This time we made it pretty healthy for the growing kids. I know that nothing is better for a kid's tastebud than a SPAM Musubi. But let's face it, it's not very healthy when consumed on a daily basis, or say frequently. I don't want to send sashimi (raw sushi fillings) to school either. So I thought of steaming the salmon first to be on the safe-side.
Why salmon? Simply because we love salmon and it's one of the healthiest fish one can consume. It's packed with all the essential nutrients that one need to live a healthy life. Salmon is classified an oily fish, which is a good protein source, omega 3 fatty acids, and Vitamin D. Do you know that calcium needs Vitamin D to be absorbed and synthesized? Vitamin D is important for the health of our bones.
It protects our bones and helps in calcium absorption.
Primary source of Vitamin D is the sun, but with its harmful effects nowadays, we often lather our skin with sunblock. Thus, shielding the essential effects of the sun to our body. So where else can we find Vitamin D? The answer always points to foods and supplements.
The kids are having Salmon Sushi Rolls for lunch today. Salmon were marinated with salt & pepper with lemon rind. Placed on a dish and steamed on a double boiler. Steamed for about 15-20 minutes. The sushi was filled with salmon flakes and a wee bit of light mayo. You can always skip the mayo if you wish. But mayo gives off a nice flavor to the salmon when eaten with rice.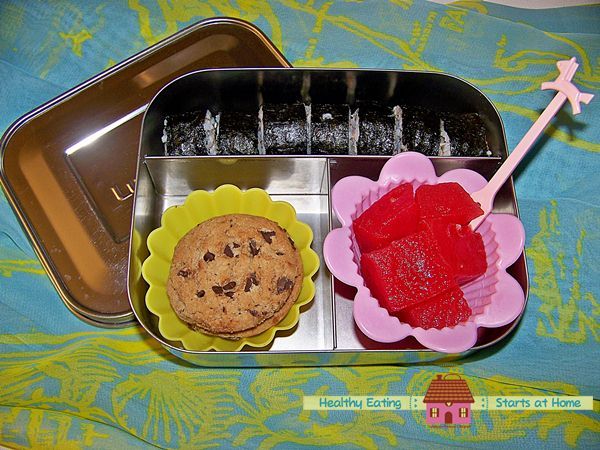 My sushi rice was made with a drizzle of sesame oil, sesame seed and dried bonito mix. I used to make it with Sushi vinegar, but somehow kids love it better without it. And rolling makes it easier for me too.
Have a great lunch!!

All bento accessories are available through
Bento USA
,
the cheapest and most complete online bento products in the USA.
Other bento gears are also available thru
My Amazon Affiliate Link
.
Thank you for your support!