I have always been proactive hunting for kid-friendly lunchbox goodies. And when I found one, I brag about its awesomeness. Simply because it's a great find, and it makes us happy and satisfied. As all of you know, I am a proud owner of several things that I make use of regularly on my blog. Each year I try new products and review them (for free) if it practically suits our family needs. And this year, I discovered the
California Innovations Lunchbox Bucket
.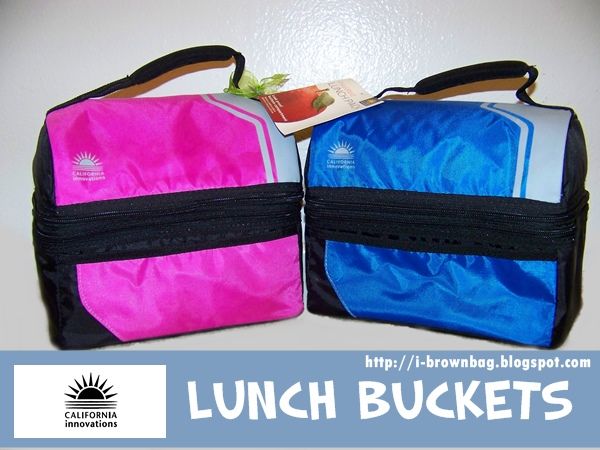 I originally discovered this lunchbox bucket through a good friend and a fellow bento blogger, Keitha of
Keitha's Chaos
. She has been using this exact lunch bucket for years for her adorable son, Boogs. And for some great reasons, when she ordered it online, color was not an option, but a lottery. Short story, she got a hot pink for her little boy. But customer service took care of it and refunded her right away with an option to give out the bag to a friend instead of shipping it back. Wow. What a treat! And this was the exact lunchbag that was passed on to me. Specifically the hot pink on left of image above. So thank you coz I'm making good use of it. My girl loves it, and the hunt started for a royal blue, but you beat me!
She found it at Office Depot, in colors hot pink and royal blue, priced at $9.99 + tax. I know other locations carry different colors and you must inquire with your local store's color inventory first before even coming in, and have them placed on hold, which both Keitha and I did.
Things that I love about this lunch bucket:
It is made with Microban: an antimicrobial product protection! It protects the interior lining from bacteria that causes odors and stains. It has a guarantee that built-in protection will not wash off or wear away for the life of the product
It's PVC-Free and Worry-Free (lead-safe and phthalate safe)
It has high density thermal insulation keeping foods chilled as long as you want.
Lining is so easy to clean. No staining! Just hand wash with soap and water.
It has 2 compartments! And are leak-proof. (The best feature I like the most)
And the handle is padded. Just the exact right length for kids and adult alike.
Top and Bottom, which makes it easier to separate lunch from snacks when your kids are asked to bring both and put them in a separate bin at school. No need to label which one is for snack and lunch.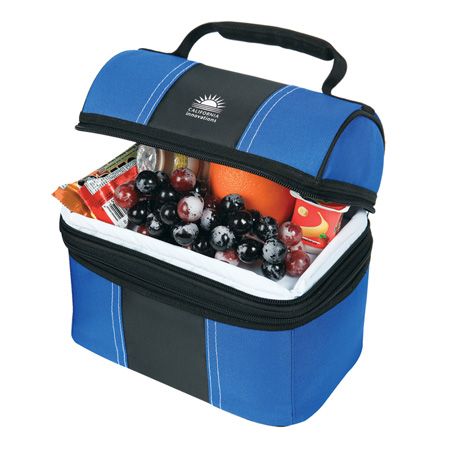 Photo courtesy by California Innovations
Or, if you're using them for a single purpose only, you have room to carry fruits on the topmost, and your main entree at the bottom. This actually gives room for your water bottle in the lunch bucket too, without the fear of messing it due to spills from your lunch container.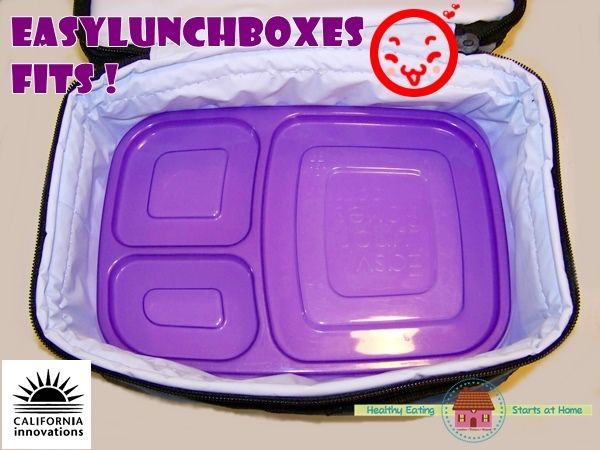 Best of all, it fits my favorite lunch containers, the
EasyLunchboxes
and still has more room to carry a funtainer for soup, and an icepack to keep foods chilled, or another Easylunchboxes! Now we can carry our Easylunchboxes in different lunchbags as we see fit for the occasion. It is one of the criterias that I look for when searching for lunchbags. We love our foods upright while in tow. That gives us the peace of mind that foods are safe, and not wasted.
Things that I don't like:
It's not widely available in the local market, which makes it harder to hunt it down. While online, you can't pick the colors you like and you spend so much for shipping. More than the price of one bucket.
My appeal: Please make them widely available locally for families who wanted your bucket so much. It's the best one to carry food containers in an upright position to avoid leaks and mess. It is also a safest place to store water bottle for little kids without the fear of losing them, messing them out of food spillage, or drowning the food out of water bottle spillage. Most families that I know of shop at Target, Walmart, Toys R Us for school and lunch gears. Or Amazon might work for people who wants to shop at the comfort of their home, but please make the colors an option to choose.
Disclaimer:
I was not compensated by any means of California Innovations to execute my full and honest review of the said product. As stated, one has been given as a gift, and another purchased for personal use of my children. Some photos were given credit to the original owner.
If you love Healthy Eating Starts at Home, you may subscribe via email to get all my posts straight to your inbox. No spam mails, just healthy food ideas for your lunchboxes.

All bento accessories are available through
Bento USA
,
the cheapest and most complete online bento products in the USA.
Other bento gears are also available thru
My Amazon Affiliate Link
.
Thank you for your support!