Summer break is over and hope everyone had a wonderful one.
It was a blast!
Congratulations to Shannon F. and Andrea A. I hope your children are enjoying the bento goodies.
Continue to be inspired and welcome to the Bento World!
To all others, Welcome to the School Year 2013-14 of lunch packing madness.


My posts will be different this year. It will be a round up of a week of lunches instead of daily posts. You might also encounter individual lunch posts on special occasions, or 2 parts of a week long lunches weekly, depending on how my schedule goes. As most of you now know, I went back working already effective May of this year. So I won't be able to commit myself blogging on a F/T basis, while the kids are in school. As always, lunches are prepared and packed daily in the morning, and some others that can be pre-cut the night before, are done as usual. I will be indicating, though, which were pre-cooked, pre-cut, or pre-packed. That way, you will have an idea how to budget your time wisely when packing foods for your loved ones. Any ideas or suggestions are always welcome on the comment section. But they are moderated to get rid of spam, so it takes time for them to show up.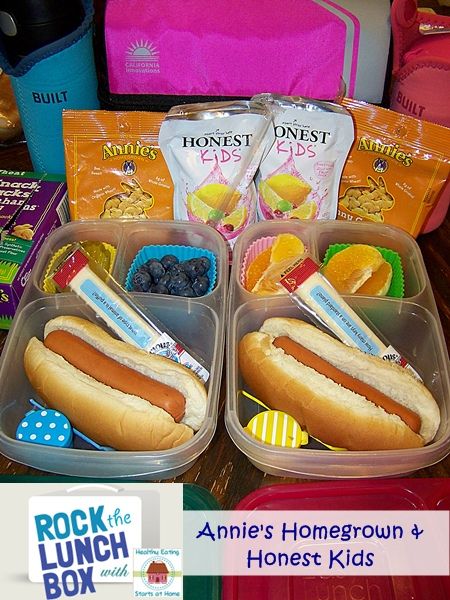 We have gone back to school officially on August 19th. And our schedule was on a minimum day for the entire week. The kids still get a recess in the morning, and a lunch before dismissal. So technically, the schedule didn't help at all with my lunch-packing madness.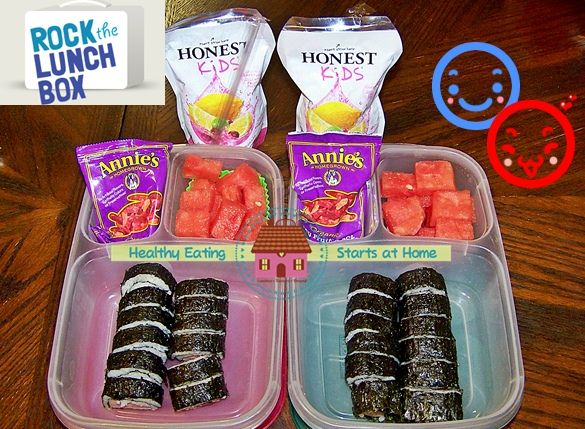 Honestly, I wasn't even much prepared when the kids went back to school. I have the week's menu, the gadget, but the pantry supply. My newly married sister and her hubby were in town. We were busy showing them around and restaurant hopping. We forgot about the stuffs that should go inside the lunchbox. Oh no!!!
But thanks to
Honest Tea
,
Stonyfield
,
Annie's Homegrown
, and
Organic Valley
, who have teamed up with bloggers to come up with creative and healthy lunchbox ideas for their back to school project called,
"Rock the Lunchbox".
My supplies came in late in the mail, since my first shipment got lost. But it wasn't a problem to them at all. They replaced and sent me another, as soon as their stocks came in.
The kids were pretty much amazed to see new product lines in their boxes this school year. And it wasn't just any other product, they're by
Honest Kids
,
Annie's Homegrown
, and YoKids Yogurts by
Stonyfield
. Healthy lunchboxes items that my kiddos are familiar with. So the introduction was much more of a pleasure.
If I were to pack this again, I would probably pre-cut all fruits as this adds up to the time spent in packing in the morning. You'd be lucky if you get kids up early and eat breakfast quick without being told to. Then packing everything up in the morning wouldn't be a problem at all, and still make it out in time for a drive to school.
If you're unsure of what to pack on a daily basis, please push the
Rock the Lunchbox
button on topmost of my post, or
here
for instant inspiration.
Do you want another giveaway?
I will be hosting another one by Rock The Lunchbox sponsors.
Here's a teaser to see what's in store for you.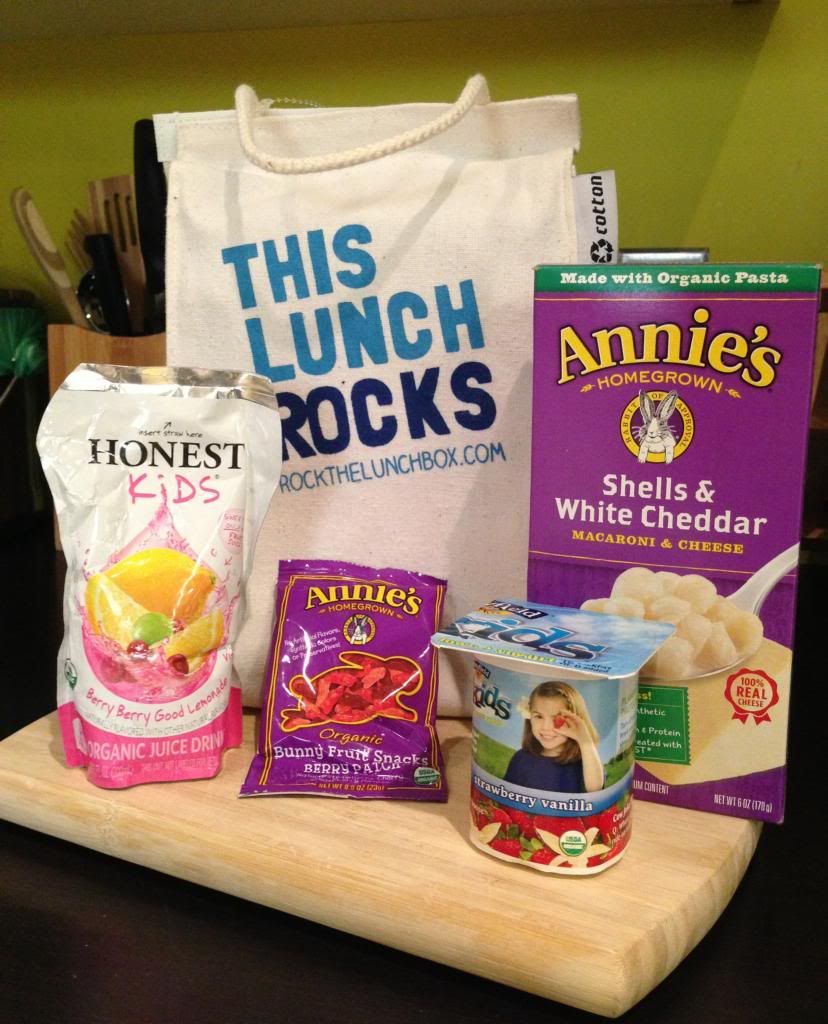 If you love Healthy Eating Starts at Home, you may subscribe via email to get all my posts straight to your inbox. No spam mails, just healthy food ideas for your lunchboxes.

All bento accessories are available through
Bento USA
,
the cheapest and most complete online bento products in the USA.
Other bento gears are also available thru
My Amazon Affiliate Link
.
Thank you for your support!