Meatless Monday for your Lunchboxes
This is being linked up to Meatless Monday Linky Party over at Bento For Kidlet.
I have finally convinced myself to pack lunches for myself to work as well. Mostly because I work from 8:30am -1:30pm, which gives me ample travel time for school pick up daily. And get tummy growls by the time I'm in school waiting in line till the kids are out. Seriously, I eat lunch at 2:30-3pm daily. And that depends too if there are emergency PTA duty in school. I find myself eat like a horse by the time I'm home, just to compensate the meals I missed. Definitely not healthy.
I wasn't so sure what to prepare for dinner last night. I found myself staring at our fridge looking at bean sprouts, tofu, carrots and green beans. Then I opened the freezer and saw the chicken legs staring at me. Scary ha! I was honestly so exhausted from our Pumpkin Patch trip that afternoon, and I'm just looking for something quick and easy to prepare for dinner, but something healthy and the kids would definitely eat.
I decided to sauté the bean sprouts with the other veggies I mentioned earlier. Easy but boring. So I thought of wrapping them up for a bean sprout roll, for which we call it, the "Bean Sprout Veggie Wrap."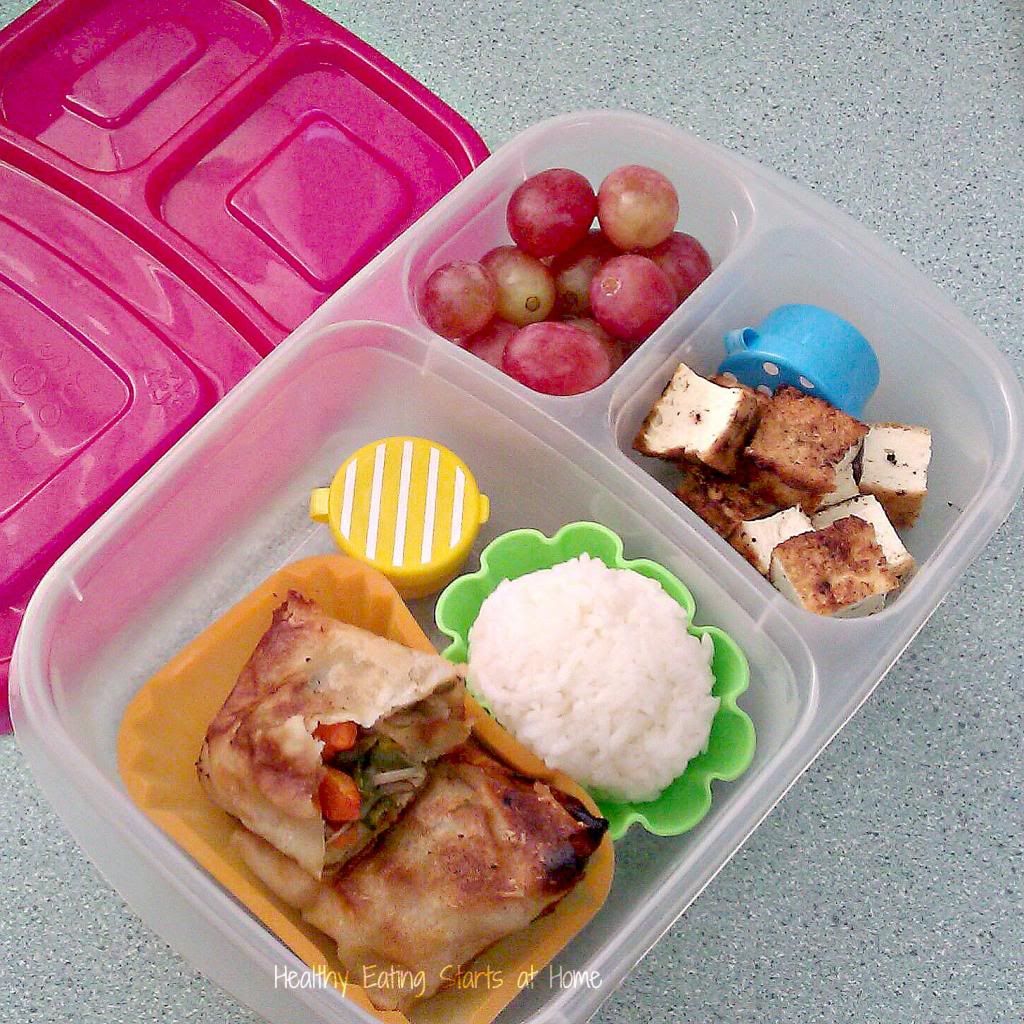 My husband is not huge on bean sprouts because of his not so good childhood memories. But when I started this dish, he changed his outlook towards bean sprouts, and had given it a second chance. Great! My kiddos especially love this because it's crisp and juicy when eaten raw. They love it as an appetizer when we dine in Korean Restaurants. But I have to think of a way to serve it to them. And wrapping it isn't a bad idea after all. I've seen my mom served it for us when we were growing up. And we love dipping it in a spicy vinegar sauce.

This is easy. Just sauté all the veggies, drain the excess liquid once cooked. You can either toss it or save it for your rice. It's yummy since it's already flavored with seasoning. Wrap them up with a lumpia (eggroll) wrapper, about 2 sheets each. We usually deep fry them to give the wrapper a crispy touch. But for healthier option, just brush olive oil on both sides of the wrap and put them in a 450-475 degrees F oven for about 10-15 minutes on each side. Watch them so you don't burn them. I make use of a toaster oven so it would take a while. Once it turns light brown, turn them right away. Refrigerate any leftovers. Reheating is done the same.

We all had this for dinner last night, and lunch for this noon. Please excuse the picture above. It was photographed by a camera phone so it wasn't at its best. I am already at work writing this post, and just needed a picture to go by since I left my decent camera at home.
If you love Healthy Eating Starts at Home, you may subscribe via email to get all my posts straight to your inbox. No spam mails, just healthy food ideas for your lunchboxes.

All bento accessories are available through
Bento USA
,
the cheapest and most complete online bento products in the USA.
Other bento gears are also available thru
My Amazon Affiliate Link
.
Thank you for your support!
If you need weekly meals straight to your inbox, try
MOMables
.
It's our one-stop shop when we're on a lunch rut.