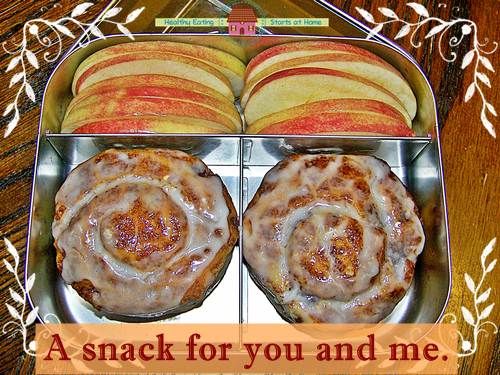 We love cinnamon buns. And I, for one, have a big craving for it on colder months. Not sure why. We usually get our cinnamon buns at Cinnabon, but we don't have a branch at walking distance, so I decided to find ways to satisfy my cravings when we can't just go. I need a good recipe for this. But I don't have a bread machine. And that doesn't mean, of course, that it's impossible to make one. It's just a lot of work. So something quick and easy would be awesome. Call me lazy, but I'm just so crazy to eat one now.
Pillsbury is a life-saver at this time of the day. They have Cinnabon pre-made doughs in a can. Not as melt in the mouth kind of thing, but pretty good for someone who wants a stash at home for days like this. Missy A is fond of this because she gets the chance to help and be a baker at a very young age.
It's as easy as:
Pop the can open.
Separate the doughs into 8 buns.
Lay them on greased cookie sheet. I prefer lining it with foil for easy clean up.
Bake
Frost with cinnamon icing.
Here's how it looked after you baked the rolls.
Before you go, grab some and pack them with fruits.
Slices of Apples or Oranges are great with very sweet treats.
All packed on a
Lunchbot Trio
for you and me.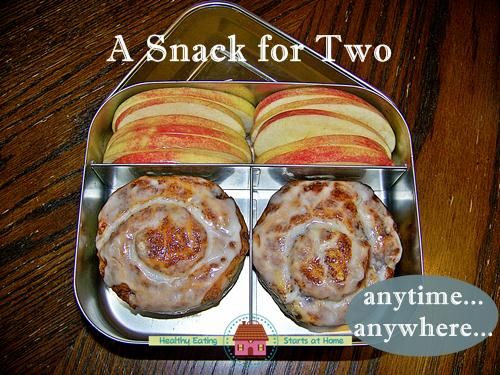 A TIP to prevent apple slices from browning:
I usually soak them on ginger ale, apple juice, or any citrus fruit juices.
But I also found out that soaking them on salted water is BEST.
It brings out the sweetness of an apple,
and they even last longer.
This post has been linked up with
I Heart Lunch

Help yourself.
Bon apetit!

All bento accessories are purchased through
Bento USA
,
the cheapest and most complete online bento products in the USA.
Other tools are also available thru
My Amazon Affiliate Link
:

Thank you for your support!