My Kindergartner, Missy A is a number 1 breakfast eater at home. She eats anything served for breakfast anytime during the day. That brought the wonderful idea of packing it for school lunches as well. I always get a high success rate of a clean lunchbox and a happy tummy after school.
Due to my daily crazy schedules, I have lost track of the exact dates I sent in a particular meal. Everyday, I took pictures, upload them in a batch to my image web host, copy the link to blogger, and save just whenever I find time. I didn't like the idea of a daily stress of coming up with a post anymore. Just because of the high demands of my kids. I assist with homeworks after school, and re-teach what was learned in school. Just to make sure they retain it well for chapter tests in the future.
So one school day, Missy A brought breakfast for school lunch.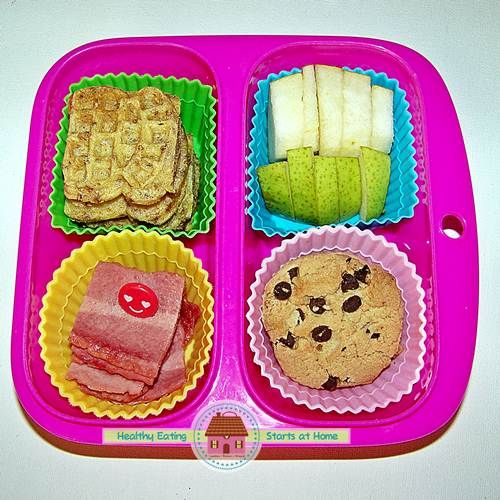 On her Goodbyn Small Snack Box, there are 3 mini cinnamon waffle toast stacked together on a green silicone cup. Next door, you'd find slices of turkey bacons on a yellow cup stoked with a love face bento pick. Across, a chocolate chip cookie is waiting to be devoured with glee, while rows of D'anjou pears are ready to be chowed down. Missy A surely had a great lunch after she went through each cup. It was one happy meal after all!
If you're in a school lunch rut, consider bringing breakfast for lunch.
Make it huge for the big boys and girls.
Hope your big and little ones had a great lunch too.
Let's make lunches fun for our kids to eat.