A Food for the Soul...A Book for a Cause
I
participated in a campaign on behalf of
Mom Central Consulting
for Jericho Books. I received a product sample to facilitate my review of a wonderfully written book by Sarah Thebarge, The Invisible Girls.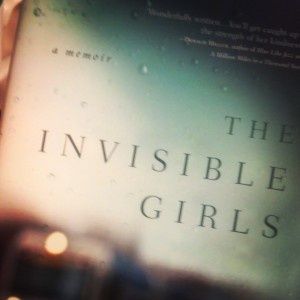 The story started with her interesting train ride from Portland suburbs toward downtown. She was reading a book when 2 sparkling brown eyes peeked in the corner of her book and disappeared. And again. And again. Till she realized that a preschool Somali girl seated right across her were playing peekaboo with her. Sarah winked at her. The little girl tried to figure out how to wink back, but ended up with both eyes in a prolonged blink instead. Sarah looked around and saw the girl's mom, with her toddler standing in between her legs trying to sleep in an upright position. She thought, somebody needs to hold that tired little girl, which she found her arms stretched out towards her. The little girl climbed to her lap, and were out in no time.
The scene unfolded quickly. It has short chapters. Merely 3-4 pages each. Something that I like the most. The synopsis evolved around her battle with breast cancer, and her intervention with a Somali refugee family. I like how these stories were woven into one. Back to back. Chapter after chapter. The transition blended so smoothly. The book is indeed very inspirational, heart-wrenching and filled with humor.
I love how she lived her life, her choices, and decisions. She is not a perfect woman. As a matter of fact, she has her share of imperfections just like each one of us. She is a fighter, a dreamer, and a charitable woman.
She fought breast cancer even when she has lost her fiancé and other support system. She managed to return to her feet after 18 months of grueling and painful cancer treatments. I love that she has not lost faith in God, despite of her questions as to why bad things happen to good people. At this point I'd like to give credit to her parents who have raised her and her siblings with tough love, God being the center of their family. This has given her enough courage to keep battling even if the thought of death at a very young age is at the back of her mind.
I personally admire her courageous decision to leave her successful career, an Ivy League education, and a failed relationship in Connecticut to start anew. Her move to Portland has given her a fresh start with an unforeseen mission in life that encouraged her to move on and continue life as it is. I believe her battle with cancer, and the story behind it, has given her enough anchorage in life with her intervention and rescue of Hadhi and her girls.
Hadhi is a Somali refugee, who had battles of her own. She was a victim of battery & was abandoned by her husband, which left her raising 5 daughters; namely, Fahri, Abdallah, Sadaka, Lelo, and Chaki, in a culture unknown to them. They were the Invisible Girls because they kept themselves hidden from the outside world due to language barrier, safety issues, and uneducated of the culture they live in. Sarah bridged this gap for them. She helped them survive the American culture. I loved how she educated them on personal hygiene, and the positive and humorous feedbacks from the girls. Her high hopes to help this family has given her a meaningful reason to give her life a second chance. Paralleled to her life's own experience, being invisible to people after her bilateral mastectomy.
Sarah Thebarge
has a good heart. Her love for the girls are unconditional. She has started to blog about them in hopes to help them learn the true meaning of Thanksgiving and its tradition. Now she has written this book as a memoir of their invisibility to the eyes of the several. Please know that a portion of the books' proceeds go to the girls' college education. Let us all reach out and help in our own little ways.
Disclosure: I was provided of a free hardbound copy of the book to facilitate an honest, unbiased and rational review. The complimentary copy did not influence my review in any way. I reviewed the book in the hopes to help encourage my readers to read and/or gift the book. Portions of the proceeds go to the college education of Hadhi's girls.

The book can be purchased thru My Amazon Affiliate Link or thru other local retailers.
Thank you for your support!

If you love Healthy Eating Starts at Home, you may subscribe via email to get all my posts straight to your inbox. No spam mails, just healthy food ideas for your lunchboxes.