I am honestly getting bored of my lunches and thought of putting out the cutters, and try our hands (my girl's) on it once again. It's fun making lunches with your kids. Have you tried it yet?
Lunch below is made with a lot of help from my little fairy princess, Missy A. She makes food with a magical touch.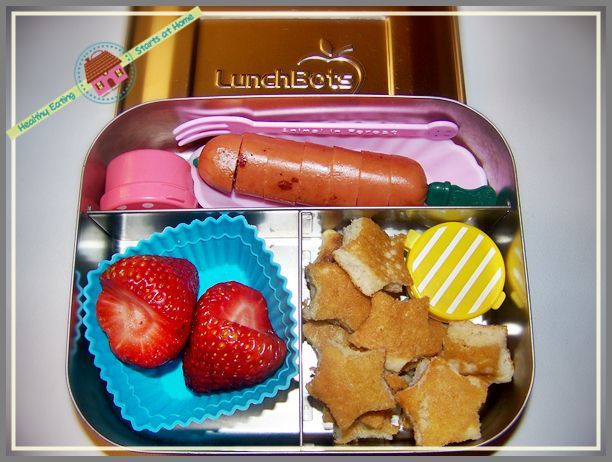 She requested for pancakes. And she wants them bite-sized. So, we thought of cutting them with her choice of mini cutter to go into her
Lunchbots Trio
. And it's STAR for that matter. She's addicted to STARs because it's what makes up a wand of a fairy. She wanted to put a toothpick on them, but it wouldn't fit right on this box. SO we'll make them on a different box next time.
On her
Lunchbots Trio
, we packed mini star pancakes with maple syrup on the yellow mini cup, strawberries on the left compartment, and hotdog wheels on a stick and a ketchup on the pink mini cup. We have also included a pink mini fork for her to eat her pancakes with.
Also, we made our pancakes from scratch. We like it better that we can control the type of ingredients that goes into our system. Currently, we are on search of hotdog products that could come close to nitrate-free, all-natural and organic meat brand. My children can't live without hotdogs, so I gotta find something safer and healthier. I heard of
Applegate
, have you? I am getting in touch with them and see if they could end my search. Would let you know :)
Let's find ways to pack lunches FUN and
healthy
for our family.
This is linked up at:

Let's see them all!
Have a fabulous day.

All bento accessories are available through
Bento USA
,
the cheapest and most complete online bento products in the USA.
Other bento gears are also available thru
My Amazon Affiliate Link
.
Thank you for your support!